Cashback Rewards: The Value of Instant Payouts for Providers and Users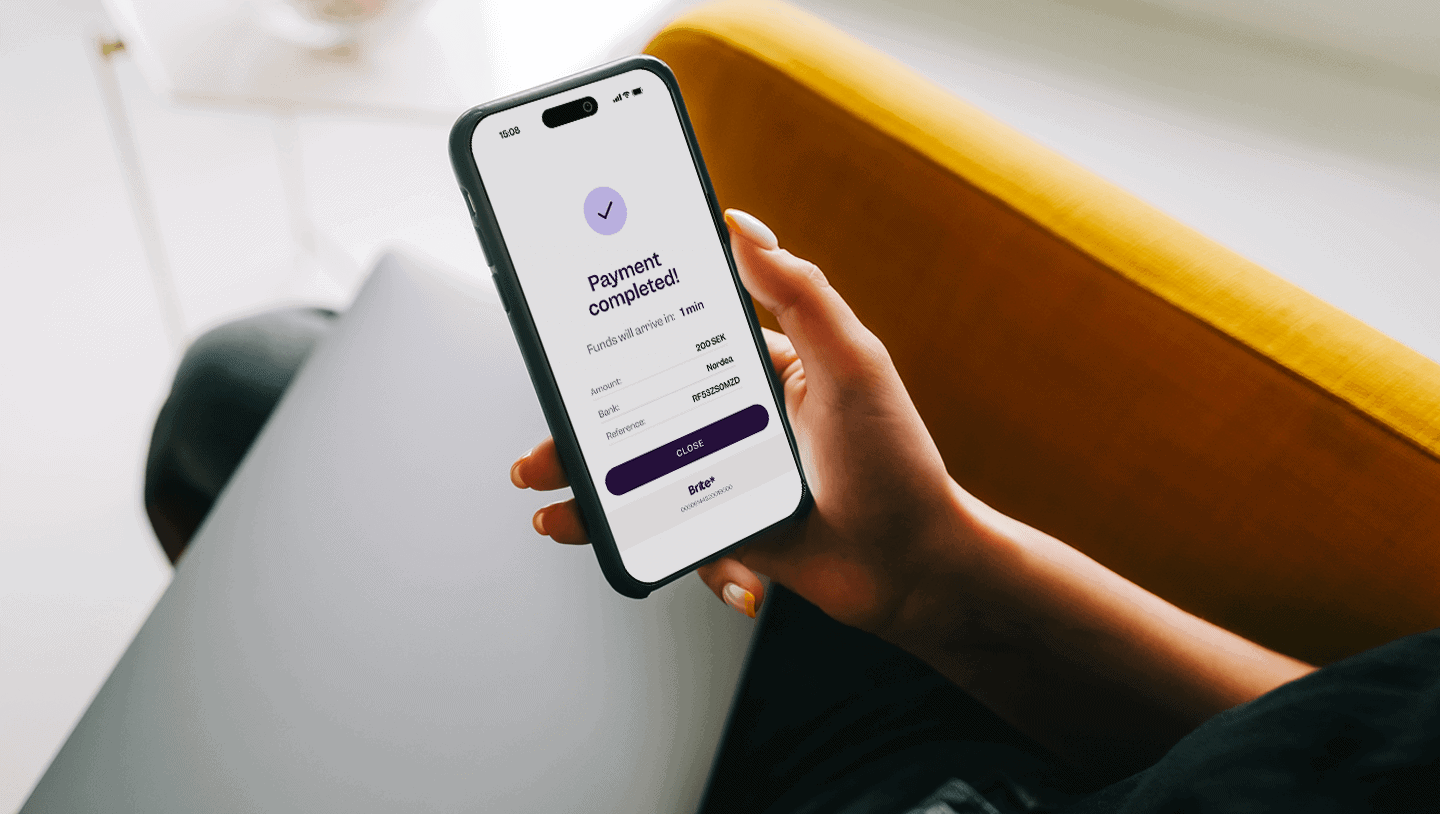 Cashback rewards and similar loyalty programmes build trust between brands and consumers. But what happens when that trust is damaged? Or worse, lost?
After all, cashback programs are a significant driver of top-of-funnel shopper visits and bottom-of-the-funnel sales conversions. Damage that, and that's potentially a lot of lost revenue.
Therefore, it is essential to know how cashback functions and how it can be significantly improved using Instant Payouts. And in particular, how slow payouts affect companies and consumers across major EU markets.
In this article we will focus on:
What is cashback?
How does cashback work?
Why getting cashback rewards right is essential?
How are lousy payout experiences harming providers?
The benefits of Instant Payouts for cashback
Cashback at the speed of Brite
What is cashback?
Cashback – the definition that this article focuses on – refers to loyalty or reward schemes that offer, yes, wait for it, cashback on purchases. These reward schemes can come via a credit or debit card or an online company specialising in cash-back offerings. They are extremely popular worldwide, with big players including Rakuten, TopCashBack, and Quidco – to name but a few.
(Note: traditionally, cashback also refers to receiving money from a retailer when completing a purchase. It's somewhat like using a store purchase as an ATM. According to the European Bank, 2% of people in the Eurozone currently use this service).
Why is cashback significant?
It's big business and is a massive driver of e-commerce transactions. According to a recent report, the worldwide market size of cashback apps alone was valued at around €3.2 billion in 2022 and is projected to reach €5.7 billion by 2031.
How does cashback work?
Cashback rewards are loyalty programmes in which specialist websites and apps, banks, and card issuers provide a percentage of what is spent at certain establishments. Often, a purchase has to be made through a specific platform to redeem a reward.
Indeed, there are three standard methods for consumers to receive cashback: through points programmes, where points are accumulated and exchanged for items; money deposited into a customer's bank account; or as a voucher.
Think American Express membership rewards – you can convert points to other loyalty schemes or money off future purchases. Or use a website or app such as Shopmium in France or Scoupy in the Netherlands to get a percentage of cashback via receipt.
Cashback rewards are a popular way for European consumers to save money on everyday purchases. It's also a market expected to grow in the coming years as more and more people look for ways to save money.
Cashback websites and apps explained
Cashback sites and apps attract visitors by giving them a portion of the money they earn. The money a consumer gets back depends on what they spend, and the cashback providers deal with stores or marketplaces. It can vary significantly as cashback sites make money for every click, purchase, application, or approved customer.
The technology is straightforward. Ready-made links are available, and big cashback sites work directly with stores to offer a wide selection of options, earn more, and get special deals.
What are the benefits of cashback rewards for merchants?
Gain a deeper understanding of a target audience by analysing individual preferences and studying customer data to create personalised product offerings.
Enhance marketing efforts through collaborations with well-known brands and customer referrals.
Increase revenue through cashback programs: platforms earn a commission for each sale, thanks to agreements with brands and establishments.
Foster customer loyalty through cashback incentives. These incentives retain and encourage customers to recommend the platform to others. Active engagement, e.g. completing surveys or posting reviews, also helps to make these incentives appealing.
Tap into new consumer communities. The more members a platform has to offer, the more significant the discount they can negotiate.
Why getting cashback rewards right is essential?
However, ensuring you do cashback correctly as a merchant and cashback provider is critical for increasing revenues and delivering value for consumers. For example, as we reported previously, instant refunds and cashback deals are helping e-commerce brands grow. But that's not all…
In its most recent report on global customer loyalty, loyalty tech provider Anatavo found that "the more rewards customers use, the higher the rate of engagement." And that higher redemption rates for loyalty programs, such as cashback, do indeed pay back.

In fact, "according to the 290 million members' interactions tracked via Antavo's platform, the average lifetime spend of members who redeemed their points at least once is 6.3X higher than those who have never redeemed."

Additionally, a 2023 survey by US white-label loyalty scheme creator Wildfire found that 90% of US consumers were more interested in discounts and earning cashback rewards when shopping. Also, 81% of respondents shopped with online merchants because of the availability of rewards, while 79% were more likely to complete purchases that involved cashback.
Cashback in the time of the instant economy
Today's consumer has a strong desire for immediate satisfaction. This has resulted in the popularity of cashback apps that reward users with loyalty points based on their spending habits and reward consumers quickly and efficiently. Users want to earn rewards quickly and receive payouts instantly.
Phil Shelper, CEO of Loyalty & Reward Co, comments in Anatavo's Global Customer Loyalty Report 2023: "Consumers join loyalty programs because they believe they will access value, and they continue to engage because they perceive they are accessing value. Thus, the best loyalty programs continually seek ways to maximise the accessible value within their programs."
Therefore, making payouts as quick and seamless as possible for customers is essential because, as we know, time is money. Providing a smooth payment process to deliver value in terms of speed and ease of use should be a no-brainer for many merchants.
How are lousy payout experiences harming providers?
But getting payments right is more complicated than it seems – even when the stakes are high.
Around the world, loyalty and cashback programmes play an essential role in consumers' daily lives. According to research by KPMG, the countries with the most significant percentage of consumers who make purchases to earn cashback and other loyalty rewards at least several times a week are Australia at 61%, Canada at 56%, and Italy at 56%.
Yet, payments, more specifically payouts, are an issue for cashback users. As Brite uncovered, when it analysed the payout experience for users of significant cashback providers in France and the Netherlands.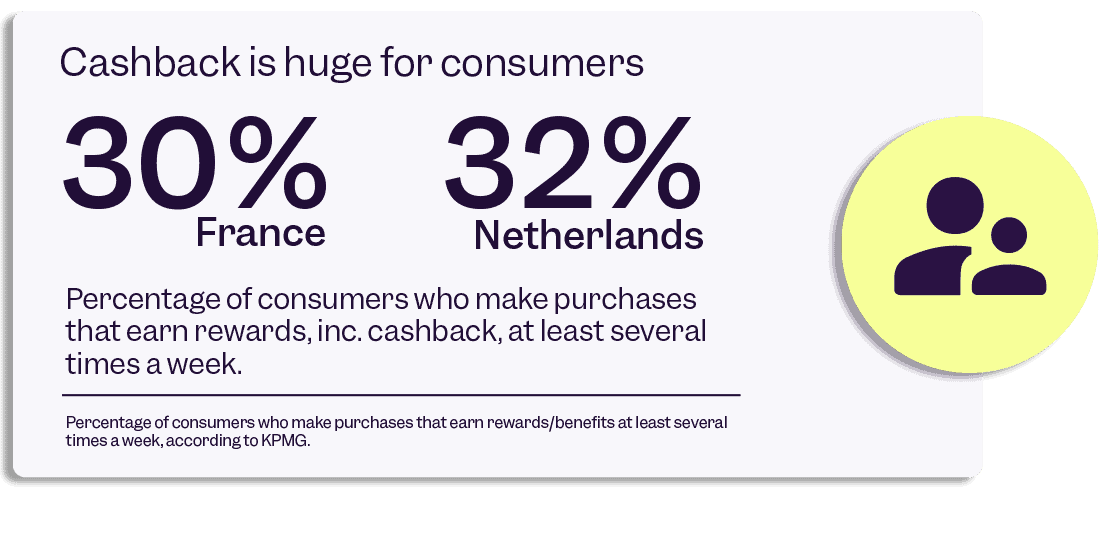 Slow and cumbersome cashback payout processes
At the heart of the matter are issues around how long payouts take to complete. Some cashback providers state that it can take up to 100 days for the consumer to receive the cashback in their wallet! That's quite some time.
For example, one leading cashback provider states within its Q&A section: "It can take up to 30 days for the cashback to be approved and made payable (the point at which you can withdraw your cashback)". Indeed, for a consumer who can make a seemingly instant purchase, waiting 30 days is the exact opposite of a frictionless experience.
Additionally, cashback providers often pay out registered requests only once a month around a specific date, with no clear indication of when the cashback will be available in a consumer's bank account. It is a frustrating experience for the user if they miss the cut-off point by a couple of days!
France and the Netherlands – far from untypical
In today's world of the instant economy, poor processes can be harmful. Consumers deserve better and expect better – but receiving a payout for some consumers is often too slow and cumbersome.
Furthermore, when analysing data compiled via the review site Trustpilot for France and the Netherlands, we noticed that many negative reviews were directly related to payout experiences.
Indeed, we found that nearly a quarter of one and two-star reviews were directly related to payout processes that needed to be faster or more robust, according to the reviewers.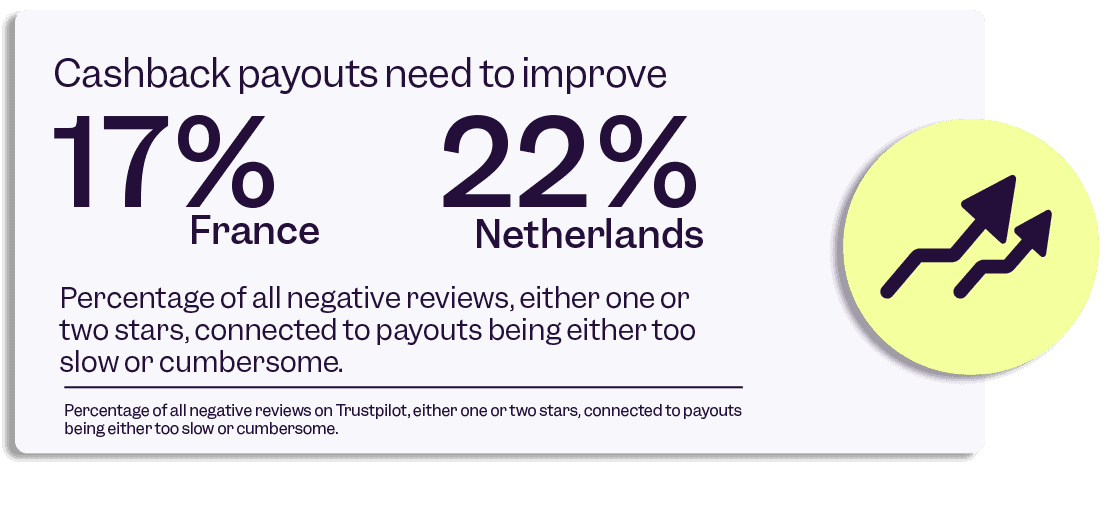 Selected examples of French and Dutch reviews of major providers showcasing typical user issues with cashback:

Translation: 'Still waiting for my transfer! Please reply or contact me.'
An example of a poor response time (and explanation) from the cashback provider, explaining they only do payouts once a month.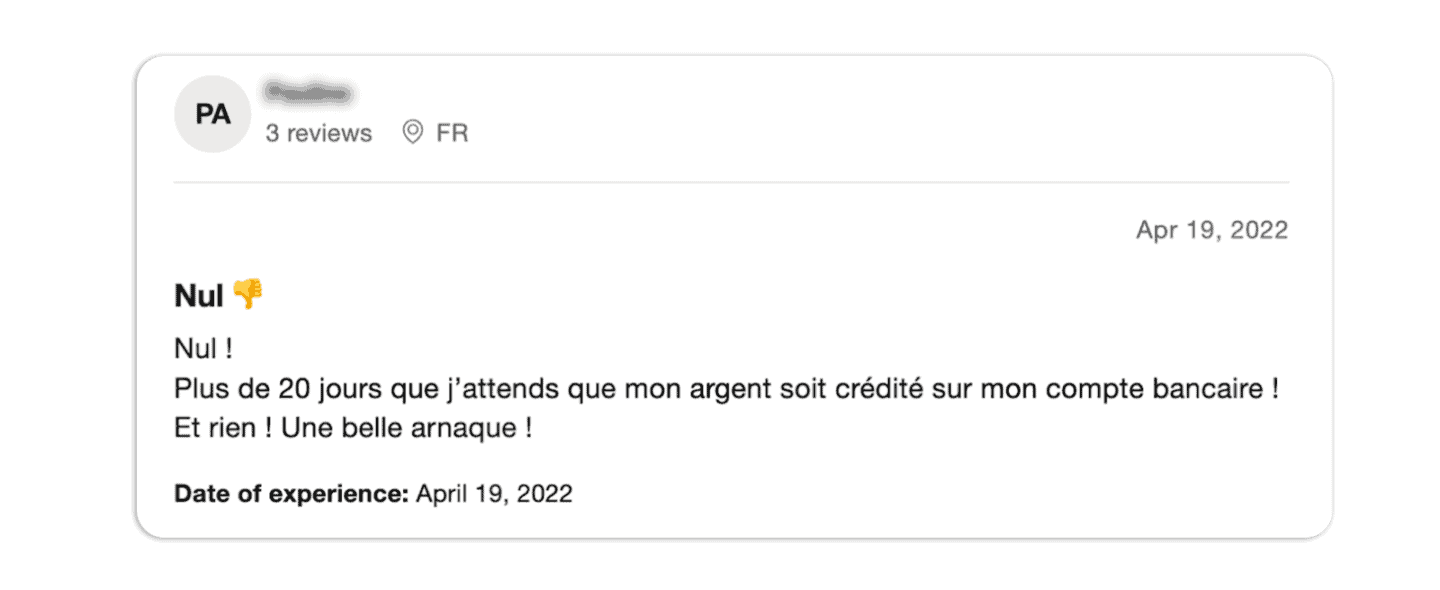 Translation: 'Useless! I've been waiting for more than 20 days for my money to be credited to my bank account! And I received nothing! It's a scam.'
Another typical example of frustration is the payout process for cashback.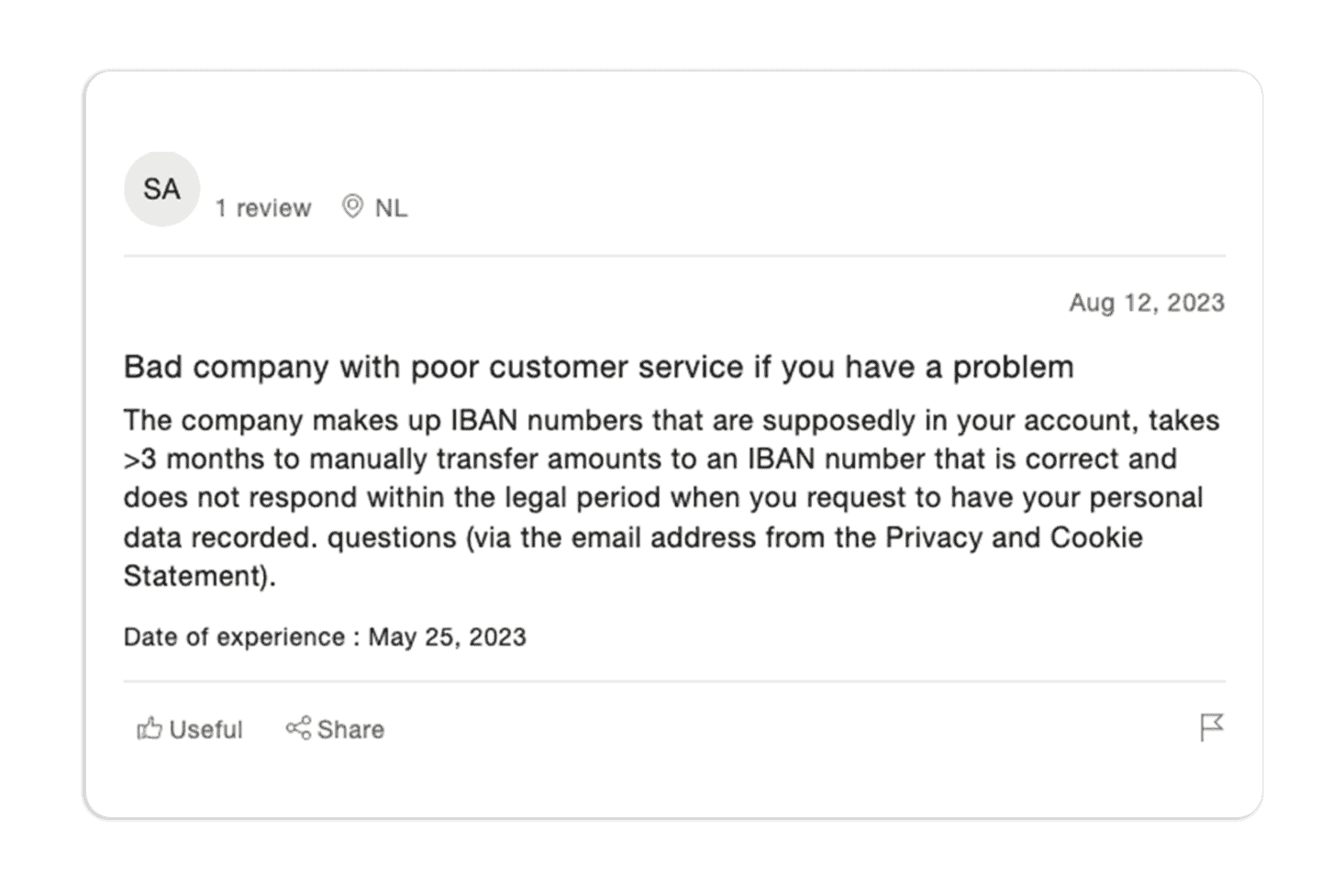 An example of a customer waiting too long to receive payment and running into problems regarding inputting an IBAN.
Poor cashback experiences impact bottom lines
Outcomes with friction, such as what is affecting Dutch and French consumers, matter. Positive word of mouth is becoming increasingly important for merchants and cashback providers.
According to the KPMG customer loyalty report, existing customers are immensely valuable as advocates, "with 86% saying they will recommend a company to friends and family and 66% likely to write a positive online review." This is, of course, provided they have had a positive experience – something the cashback reviewers we analysed did not.
Therefore, a paramount concern for cashback providers is consumer trust. Users lose interest when they do not experience genuine value or a positive journey. Ultimately, lousy payment processes with delays erode trust.
The benefits of Instant Payouts for cashback
As we have detailed, an apparent drawback of cashback apps and websites for consumers is that they don't always issue cashback promptly (or even at all), resulting in adverse outcomes for providers, consumers and merchants.
As PWC comments in its latest consumer insights survey, merchants must have "a deep understanding of what consumers think, the stresses that concern them, and the demands and expectations they have should lead to a more sophisticated and strategic understanding of the frictions that exist—and the steps necessary to mitigate or remove them". Therefore, taking steps to mitigate poor experiences and make cashback payouts as frictionless as possible is vital for business.
One way to resolve this is by cashback providers adopting best-in-class payment technology for their customers – one that does pay instantly and doesn't make the payment process more inefficient. The answer is, of course, account-to-account (A2A) payments, which make payouts seamless and cost-effective for both cashback providers and users. 
The power of account-to-account payments
By using instant A2A payment technology, not only are payouts done and dusted in seconds, but with open banking-powered features such as real-time account verification, you can automatically enrol customers into loyalty and cashback programmes in the flow as they make their first purchase.
Open banking technologies associated with Instant Payouts can also refine and improve operational and manual aspects of cashback. In particular, handling the funds needed to make payouts happen in seconds and validating customer account details.
Furthermore, instant payouts empower providers to put their users in control, enabling them to decide when and how often to redeem their rewards. This revolutionary shift has the potential to be a game-changer. It eliminates manual processes and enhances the consumer experience, increasing interaction and engagement with the platform resulting in higher customer retention and purchase frequency.
Finally, making the process easier for consumers helps them achieve an unexpected windfall too. Astonishingly, according to a recent survey based on US consumers, almost a quarter of people leave cashback money unclaimed!
Cashback at the speed of Brite
Indeed, the speed with which consumers redeem rewards may become a decisive factor when choosing a cashback platform. The difference between waiting over 30 days for a cashback payout when they could have the funds in seconds could be crucial.
That's why Brite Instant payouts' unique Time2Money feature tells consumers exactly when they will get paid. Providing cashback providers and merchants with the ability to build trust and significantly reduce customer service requests.
Plus, with cash-outs streamlined and automated, the risk of human error via the wrong IBAN, for example, is significantly reduced. What's more, Brite users can access their cashback funds quickly, helping to build loyalty to your brand.
Get in touch to learn more about how Brite can upgrade your cashback offering.